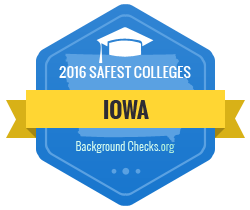 SIOUX CITY, Iowa — Briar Cliff University ranks among Iowa's safest colleges, according to an annual report by the website BackgroundChecks.org.
Briar Cliff is one of just 23 institutions in the state to achieve "safest college" status. The rankings are based on data from recent Department of Education Reports, natural language analysis, social media sentiment analysis, and additional research conducted by the website 
"This achievement is a true testament to the leadership of our University's emphasis on student and community involvement," said Dr. Hamid Shirvani, president of Briar Cliff. "Our students, faculty, staff and campus security have worked together to create a safe atmosphere that fosters a welcoming academic environment."
BackgroundChecks.org is an online resource and database that provides online access to public records information. The organization is committed to increasing public safety, community involvement, transparent government and education.
---
Tags: Campus, Parents, Student Life, Campus Life, Awards, BCU